AP Physics C: Mechanics
This is the Future of Learning
Examit's AP course offerings provide a revolutionary model of self-paced AP exam preparation with integrated social connectivity amongst users. Our AP content is created by AP teachers!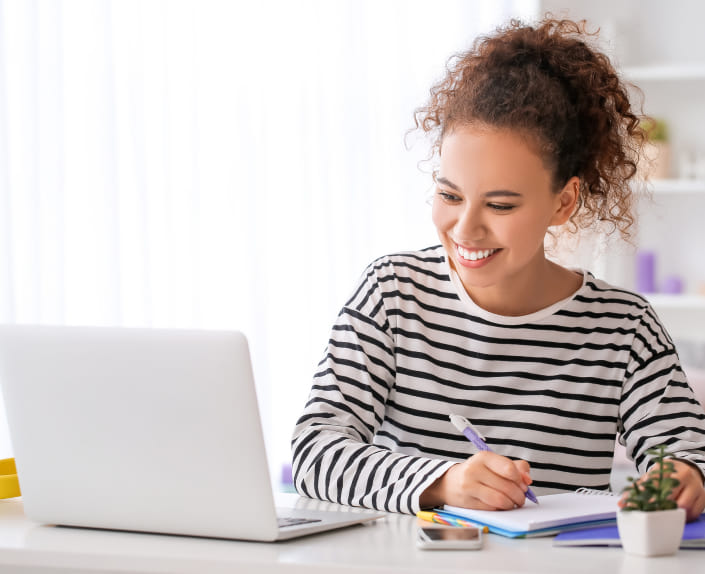 AP Physics C: Mechanics
This self-paced, eight-chapter course comes with 34 modules covering all content required by the AP College Board ®. Over 300 multiple choice practice questions mimicking the language and style of actual AP questions includes referenced links to the relevant content and answer explanations.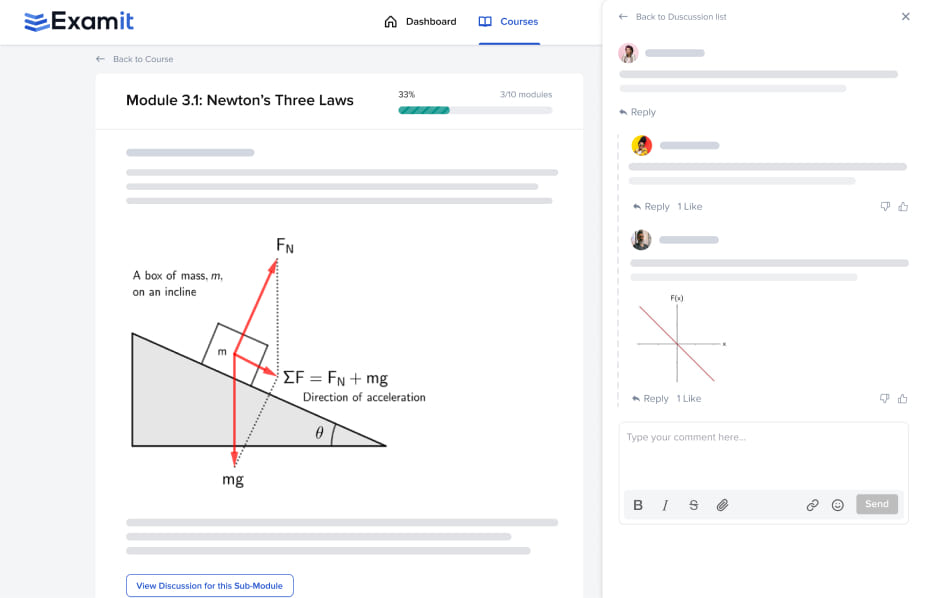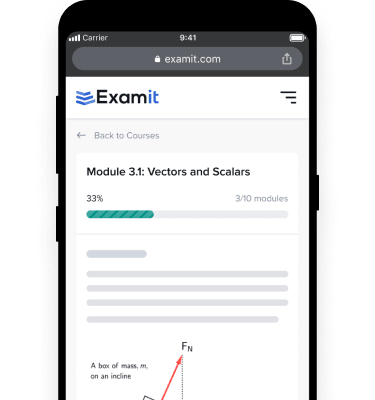 What will you learn?
Examit's course content is created by AP teachers who have deep knowledge and experience in content and pedagogy. The scope and sequence of these courses cover all the content required by the AP College Board and practice problems reflect the language and problem style of real AP exams. Students who want to take the AP exam, but don't have the option of taking the class at school, can now use this site exclusively to earn a top score.
Browse Course
Learn Together
Students can draw upon the knowledge of the entire Examit student community in our revolutionary learning model. Students can create study groups, befriend other users, or become a contributor in the world community by posting and answering questions and comments referenced in the text by other users. Students can see discussion threads of relevant content embedded into the text margins of their modules to better reinforce their understanding.
Try Examit
Learn with Experts
All content is created by licensed AP teachers who have mastered their teaching and delivery. These teachers are able to identify where students traditionally have difficulty and can provide several perspectives of understanding. Content and practice problems are constantly being reviewed and updated for optimal effectiveness.
Sign Up For Free
What our students say:
The practice quizzes are great since you can immediately see an explanation and look through the text to understand the answer. The quiz questions feel like real AP questions that my teacher gives us for homework. This course doesn't have free response questions which are pretty easy to get anyway. The random question generator is cool. Great supplement to my class.
I've tried other tutor sites and this one is the best so far. The group discussion function is awesome! A few classmates and I follow Examit's course along with our class. I like how we can ask each other questions without having to do it in class since it can sometimes be embarrassing. I just wish there were more students on the site.
This site offers what other sites don't – comprehensive content that is written specifically for the AP Physics C mechanics exam. It's great connecting with other students who are taking the AP exam and sharing what they're doing in class. Being able to see discussions about specific content also helps a lot. This site is a great tool for anyone preparing for the AP exam!
I'm preparing for the AP Physics C exam and this site gives me the background and conceptual knowledge in a clear and straightforward way. I'm glad to be able to communicate with others who are preparing for this test too as I know I'll have many questions. The quizzes have some easy but hard questions too.
Not at school? No problem.
Examit's functionality is accessible while you're traveling or just have a few extra minutes to spare. The random question generator gives users valuable practice either on your computer or phone. Score well to earn your quizmaster badge!
Get Started Today